Let's be clear. I have no ambition toward wealth, no aspirations to lead a company from the corner suite. I have no yearning to live in a million dollar home or drive a $65,000 car. When I dream big, I don't dream of a 6-figure income and a budget to fly around the world choosing where to stop for lunch and where to sleep at night.  When I dream big, all the characters on my storyboard fit and all the pieces have a place.  When I dream big I dream of success, not measured by the numbers on my W-2 or my name engraved on an office door, but success measured by God's standard compared to my obedience.  Have you ever wondered why our 21st century lives couldn't have little compartments where we could meet with God, you know; one on one to talk things through.  We could hand Him our ideas with a black marker and have him cross off the things that would shift us from his perfect will.  Our experience with choices often create a dilemma.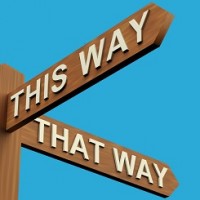 It seems that Joshua was given wise counsel in Joshua 1:7  ""Be strong and very courageous. Be careful to obey all the law my servant Moses gave you; do not turn from it to the right or to the left, that you may be successful wherever you go."  Maybe back in those days there were fewer choices and the 10 Commandments built sufficient boundaries – or not.  Joshua was serious about his divine call and like me and like you his desire was to fulfill his God given purpose. For Joshua, it was to      be a confrontational commander, a tough leader with a military mindset. He had no margin for error.  When he dreamed big, he had to see victory in the future of the Israelites.  That was success for Joshua – that is not success for me, and probably not for you.
Have you wondered, maybe not today, but at some time if you are living the life God designed for you? When making decisions isn't it difficult to know for sure how your list would look if you could hand it to God with that black marker and ask Him to draw you a map – with steps to success clearly marked? I downloaded the book Simply Rich, the latest book by Rich DeVos. The front cover description expresses "Rich DeVos helped create one of the world's biggest companies— Amway— and did it from the ground up, with little but his deep faith in God to guide his decisions and keep his hopes alive." I've read the history of the Amway Corporation many times. In 1969 a friend of my dad came to talk about jumping into becoming an Amway distributor, but since this meant being 'yoked' with a business, he wanted a second opinion about his venture. The story included the meager beginnings, the triumphs and defeats, but most important the testimonies of two men who acted out of their devotion and dedication to God.
I don't know any member of the DeVos family or the VanAndel family. I know from reading two other books by Rich DeVos, 'Believe' and 'Hope From My Heart' that in cultivation of their business and in the development of their families, they chose a godly path. Because of their many cycles of start, stop, switch, start over do you think there were many cries to God for wisdom and guidance? Do you think there were pleas for God to draw a map of his will?  I do too. Do you think they read this New Testament verse multiple times?  Hebrews 10:36 "You need to persevere so that when you have done the will of God, you will receive what he has promised".
In West Michigan especially, but in all parts of the world the abundant blessing of God on the Amway Corporation is evident. There are benefactors that exist only because two men followed the leading of God to His divine definition of success for their organization.  I am thankful for the Christian character of Rich DeVos and the late Jay VanAndel.  I'm thankful for their unparalleled generosity. I'm thankful that they recognized their divine purpose and were determined to be successful according to God's standards.
What can we do to be successful according to God's standards?  Envision for a moment, handing over that that paper and marker to God. At the top of the list … Seek the Lord your God.  Deuteronomy 4:29 "But if from there you  seek the Lord your God, you will find him if you seek him with all your heart and with all your soul."  What else?
I've spent more than my fair share of suggesting to God that he had me mixed up with someone else. I'm sure I've exhausted God's patience with endless what-if hypotheses and why-not speculations. I'm relatively certain this verse in Romans was intended for me. Romans 9:20-21 "But who are you, a human being, to talk back to God? "Shall what is formed say to the one who formed it, 'Why did you make me like this?'"  Does not the potter have the right to make out of the same lump of clay some pottery for special purposes and some for common use?"  
God exercises patience and is long suffering because he isn't just loving, He is love. God knows the heart of each of his children. When we question, when we dream, when we endeavor, when we conscientiously pray for direction from above, God shines a light on the path so we can stay the course or get back on track.  This promise is a comfort to people like me who live immersed in questions.  Isaiah 42:16 "I will lead the blind by ways they have not known, along unfamiliar paths I will guide them; I will turn the darkness into light before them and make the rough places smooth. These are the things I will do; I will not forsake them."
In the final analysis, this verse spoke volumes to me this morning in my quiet time.  It's a good question.  Who am I serving? Galatians 1:10  "Am I now trying to win the approval of human beings, or of God? Or am I trying to please people? If I were still trying to please people, I would not be a servant of Christ."