Just wondering . . . have you ever had a day when everything went right? Me either. That's for 'other'. Well, I take that back. Sometimes I am one of the 'other' people.  I've had a lot of days when everything seemed to be OK and then there are those other days.
Those days seemed upside down until I remembered that there were threads I couldn't see, weaving together the circumstances of the day stuck in the irritation cycle – you know like when the thread and bobbin don't agree on the degree of tension and there it is, a blob of tangled thread, in an indecipherable knot.
It's when we look at that tangled mess we speak with urgency, "God, I don't understand how this can possibly fit into your plan for good. I know you said, "Consider it pure joy whenever you face trials, because the testing of your faith produces perseverance." (James 1:2-3) But Lord, I've persevered. Can I catch a break here? Can I have your other option for this one? Remember …"
And God listens while we remind him, in repetitive detail, why our situations are not making us happy. People in Isaiah's time must have had a string of days that didn't go right either. They often asked for other conditions, other provisions. Isaiah writes in chapter 29, verse 19 "The downtrodden will obtain fresh joy in the Lord, the poor among humankind will rejoice in the Holy One." That sounds like they had a lot of knots, doesn't it?
A while ago, I took the day off from all that I planned to do and watched a movie with one of my granddaughters, 'Alexander and the Terrible, Horrible, No Good, Very Bad Day'. The irony of the title was lost on me as I chose a coloring page to work on while we laughed our way through the hysterical upside-down antics of Alexander's family. I started to color a page with the quote, "Do what you love" but instead settled on one that stated in beautiful script, "everything happens for a reason".
Even now, after the fact, I'm amazed at the impeccable precision of God's planning the interwoven threads of humankind right down to the picture I chose to color. "Look! It's finished," I announced to no one in particular. In that moment, I received this text message. "Aunt Jane, please pray. My house was sold, closing in 3 days and the buyer passed away last night." What? This outcome was other than ever expect. I glanced from my completed picture, EVERYTHING HAPPENS FOR A REASON, to my phone; from my phone, back to the picture, my eyes focused on the text absorbing the shattering news and my heart swallowing the significance of the sovereignty of God in an insignificant picture.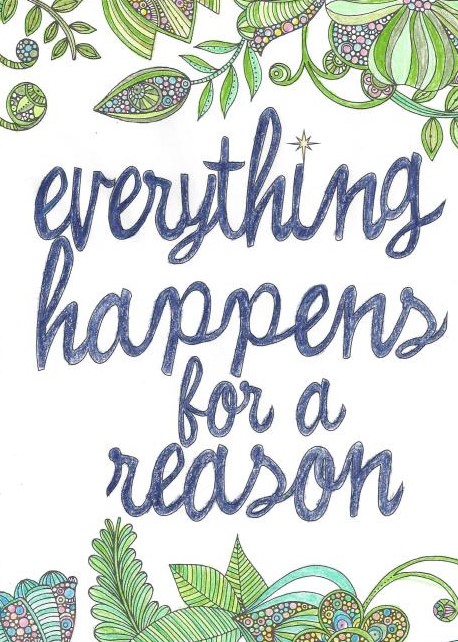 In His plan, God knew my sweet niece would need reassurance that He, the same God that protected the ancient Israelites, is the same God today, active in every detail, in the minutiae of her life. The guardian of her soul would be the unraveler of tangled knots, the master weaver of every incident has something better planned.
Proverbs 8:32 blankets us with hope, "Now then, my children, listen to me; blessed are those who keep my ways. Listen to my instruction and be wise; do not disregard it. Blessed are those who listen to me, watching and waiting at my doorway. For those who find me find life and receive favor from the Lord." I wanted to console her with truth. Nothing happens to you without it passing through God's sovereign will. Wait there and find favor. I assured her I would pray that God would soon bring her another buyer and that it would sell above asking price.
Prayer: Lord, when life doesn't make sense, when we become weary of our circumstances and get tangled up in knots, remind us that you are the master designer; it is your pattern being used to weave the tapestry of our lives. Fill our hearts with joy that comes from your spirit in us, not from the fractured pieces of our experience. You, Lord are our peace, our comfort, our hope. You see the invisible filaments of our existence where we see only what is. Give us courage to face what comes and grow our faith beyond the capacity of our fears. Help us to remember that nothing is insignificant to you, Lord.
Other thoughts from Psalms:
Psalm 34:4-5 "I sought the Lord's help and he answered me; he delivered me from all my fears. Those who look to him for help are happy; their faces are not ashamed."
Do you want to know the outcome of the house sale? A few weeks later, she texted me again. Her house sold for real this time for $1.00 above asking price. Well – I guess I should have been more specific, huh?
I'm participating in Five Minute Friday 31-days of writing. Today's post brought to you by the word 'Other'. If you want to join us in the future, I encourage you to look us up at fiveminutefriday.com and follow Kate Motaung on Facebook and Instagram as well.