Three years ago, I was inspired!  I shared dinner around the table with a children's book author. I know. You're ready to click 'done' and move on. I hear you.  "So, what?" you ask. Stay with me here because I promise you, there is something remarkable about author, Lori Hastings.
Can I have just 90 seconds of your time?
Lori has authored three books for children, each of them tells a poignant story on topics pre-school and elementary school age kids might struggle with.
Blue Bear with No Hair is a story about a bear who loses his hair to cancer. Young children might not understand that when a friend or an adult has cancer, they will likely lose their hair.
Green with NV has a unique way of presenting the topic of respecting God's creation through the unlikely friendship of a green crayon and plastic milk jug.
The third book, Rosie Rose and Her Great Big Nose inspires kids to appreciate who they are from the inside out and capitalize on their character and talents.
Each of the books has charming illustrations to capture the imagination of readers young and not so young.
So – you're still wondering, aren't you? Inspiration comes gradually to some of us. But the wait is over.
Lori Hastings has no use at all of her legs or her arms. Her books were 100% written without use of a keyboard. Each of these beautiful stories was written using voice activated software. When I first met Lori, I noticed that she was completely immobile, even as she sat in her wheelchair at the round dinner table. When her husband, Dave, told me she authored three books, my first thought was how in the world?
I had no doubt the books would contain encouragement and inspiration for children and adults. I immediately bought a copy of each book for our church library. As Lori said, "Each story was written to encourage children to become the very best they could be."
But wait! There's More!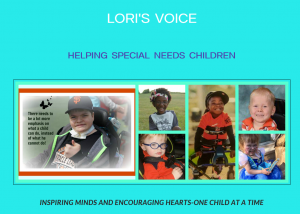 The books are only part of the story. The organization, Lori's Voice, exists to provide equipment, educational resources, and medical assistance to children with neuromuscular, degenerative diseases, and mobility issues.
That isn't the end of the story though.
A few weeks ago, I did my grocery shopping at a store I rarely frequent. On their receipt I read these words, "Direct Your Dollars – This ENTIRE receipt needs to be turned in to your favorite non-profit group with a 501C3# and help them earn $1000. "I admit I have never looked closely at my receipts before, but that caught my eye. Who did I know with a 501C3# organization?
Three days later, I opened my mailbox and the newsletter, Lori's Voice, answered my question. Right there on the back of their newsletter I read these perfectly-timed words: You can contribute to Lori's Voice simply by mailing your receipts from any local Family Fare Supermarket or D&W Fresh Market.
The more we collect, the more we earn. Mail your receipts to:  Lori's Voice, PO Box 66, Coopersville, MI 49404
Insert, seal in an envelope, and mail. Just like that, people can help sponsor medical assistance, equipment, and education to children with mobility issues due to disease.
Please look them up at https://www.lorisvoice.org/ You will be inspired!