Awhile back I watched the Day of Discovery program produced by RBC Ministries.  I was intrigued by the familiar topic of the potter and the clay.  Isaiah 64:8 says "Yet Lord, You are our Father; we are the clay, and You are our potter; we all are the work of Your hands." I've heard that story all my life. The potter (God) takes a lump of clay (me) and puts me on the potter's wheel, spins me around while dousing me with water, and shaping me into a masterpiece, fashioned for a unique purpose. Does that sound familiar?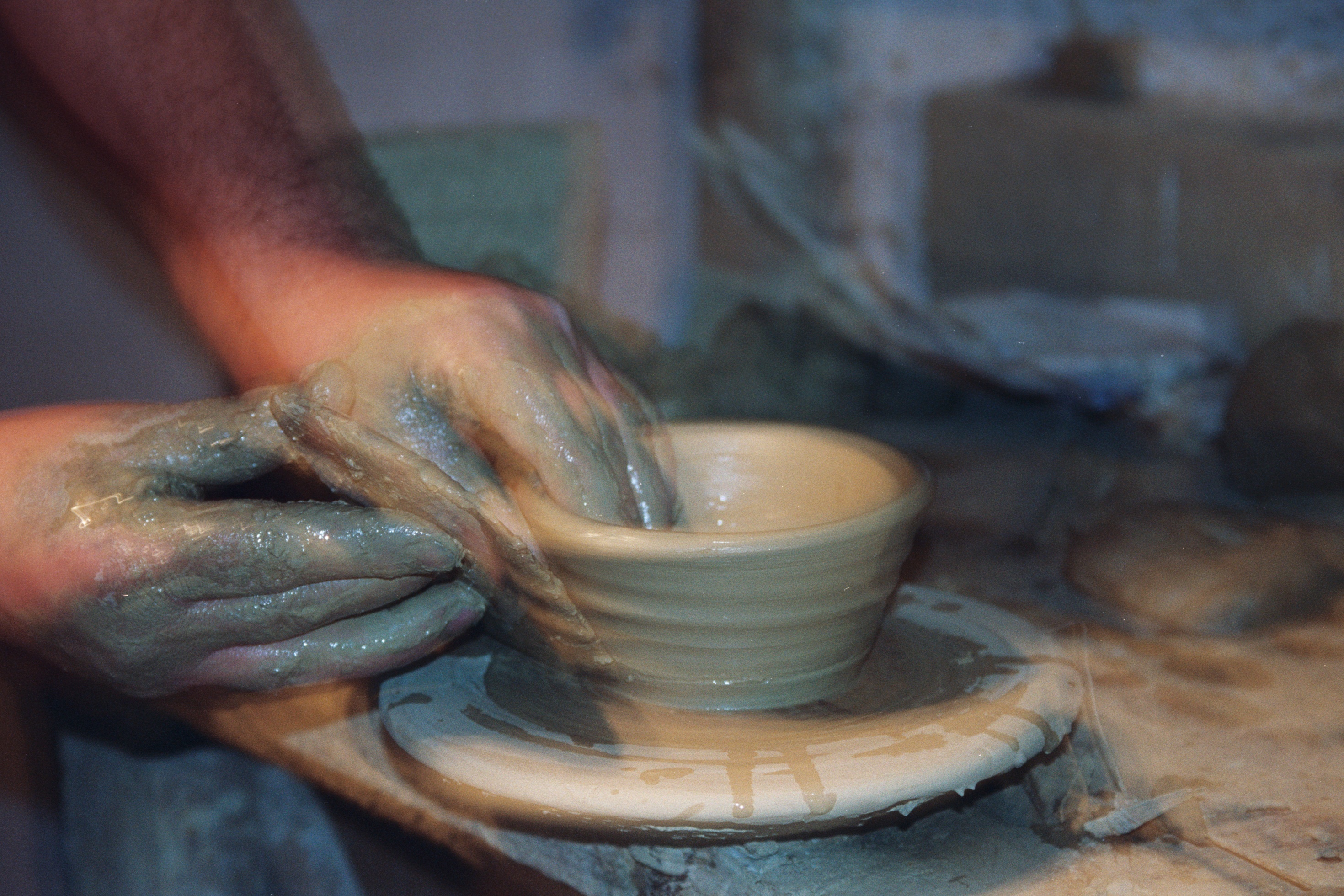 Through the process, the master has this designer mindset that transforms an image into a vessel with all the qualities planned in advance, before the clay even arrived.  Jeremiah 18:6 spells it out for God's vision for his people. "He said, "Can I not do with you, Israel, as this potter does?" declares the Lord. "Like clay in the hand of the potter, so are you in my hand, Israel." God has a plan for his people today, just as he did back in the days of Jeremiah the prophet.
Here's what really caught my attention. The gentle shaping of the clay, forming the sides to fit the base, making the handle ornate or leaving it smooth and serviceable, creating purpose inside its shape. Characteristics – all malleable through tender prodding with features formed through gentle guidance to balance its designed purpose.  This is how we want God to work on our design.  We want slow, deliberate guidance, not too rough.  If we must endure some pain along the way, like smoothing out a rough patch or covering a dried out crack, we want the action to be swift and precise. We want to be assured that no matter what we're going through, God is close by, working all things out for us because we love him.  Romans 8:28 "We know that all things work together for good to them that love God, to them who are the called according to his purpose." The potter and the clay – a masterpiece.
What happens when our life is not defined that way?  Instead of the gentleness we agree with, our circumstances are tumultuous and agonizing. We feel like the temperatures of our circumstances are rising and we are far past the boiling point. Where is God then? We are going through fire and we feel like God has abandoned us.  Did he just walk away and leave us in our distress? What does the potter do in these times? When the potter puts his fully formed masterpiece into the kiln, it is then that he watches most closely. The temperature in a kiln reaches over 1500 degrees.  The potter can't risk being far away or being distracted. Think about it for a moment.  Remember how David sang about being relieved from his distress over and over in the Psalms.  Just as the potter watches and protects his masterpiece when the kiln is fired to its hottest temperature, so these are the life times when God watches, tends, and protects his children, his masterpieces.
Yesterday, I talked with someone on the phone whom I had met through a complex network of individuals I've known through online communities. Nobody but me would recognize the miracle of that phone call. Nobody but God had heard my specific prayer, and even I didn't know the name of the person I would have a conversation with yesterday. Through that one phone call though, it was like being taken from the kiln and released to cool air; no burns, no scorches, just on time. For months I have prayed for a place to use my current skills and build new ones, to improve my writing, and in the process, make a difference. I can't describe the intricate paths God had to intersect on the way to preparing the right conditions for that call yesterday. I know God was protecting me from making poor decisions that would have prevented it though – and just when I was tempted to think he wasn't paying attention, God opened the door. What does this mean in a tangible way? I'm not sure because I have only this moment.  I can't see into the future.  But I know that in God's sovereignty, he orchestrated yesterday's event.  I have no doubt that he will orchestrate anything that comes from it.
All I can think of when I realize that only God could connect so many dots in a pattern that makes sense, is Galatians 6:9 "Let us not become weary in doing good, for at the proper time we will reap a harvest if we do not give up." And Psalm 16:5 "Lord, you give me stability and prosperity; you make my future secure."
Jeremiah 29:11 "For I know the plans I have for you," declares the Lord, "plans to prosper you and not to harm you, plans to give you hope and a future."  You are strong enough to wait for God's best plan to be acted for you.