What settles you? How would you answer that question?
We are warned to seek best, don't settle for just good enough. So, let's get beyond the negative connotations of the word settle and explore why settling is a good thing.
We are comfortable around people who are a lot like us. We feel settled when we are in the company of those who share our ideas, vocation, faith, and vision. Being settled creates a sense of belonging.
When we go to the local high school football game, there are hundreds of seats to choose from. Where do you settle in? With people you recognize and sense that you belong.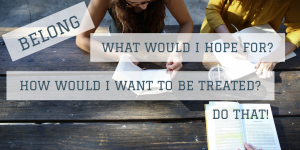 When you go to church, do you congregate for small talk after the service? You belong, and you feel it in the words spoken by people you know and jokes told about people you know.
At work, where are you most comfortable? We don't have the luxury of choosing to stay where we are most comfortable, do we? But if we are honest, we will say we feel most comfortable where we feel most like we belong.
According to any dictionary the word belong, in part, means to be a member or part of a particular group, organization, or class.
Tomorrow is Sunday, the beginning of a new week. Life is challenging, and many folks are struggling. Knowing they are accepted or feeling like they belong could grow their confidence and infuse their spirit with new optimism. A few kind words can bridge the gap between separation and belonging.
The next time you exit your home where you belong, decide that you will choose at least one person who might need to feel settled and that they belong.   
Here's a word from the Lord to remind us: Therefore, as we have opportunity, let us do good to all people, especially to those who belong to the family of believers. Galatians 6:10