When I was 11 year old, my dad built the parsonage we lived in. For you young'uns a parsonage is a house the preacher and his family lived in and was usually pretty close to the church, if not attached. There. Your vocabulary lesson is done for today. But getting back to the story … this house had a basement which he decided to paint with some newfangled epoxy formula that would hold up to freight train traffic. Being the born-to-help child I wanted to paint the floor with the long stick and roller. Wise parents that they were, I was assigned the portion of the floor that would be covered with an area rug. I'm not saying they were clairvoyant or anything, but I guess they knew me pretty well by then.  I'm sure there were plenty of instructions thrown out, and they were probably clearly communicated, but I don't remember now. In fact, I didn't remember them at that time either because maybe an hour into my task, I got the call to dinner and where was I? Stuck in a corner of the room unable to get out safely, or at least safe for my shoes. Also a note for the young'uns – this might come as a huge surprise, but I had two pairs of shoes back then. One pair for church and one pair for everything else. Well, my 'everything else' shoes were about to go two stepping across epoxy paint durable enough for freight train traffic. There I was in a corner, surrounded by gleaming, wet gray paint wondering how I was going to escape. If you think my mind was manufacturing all kinds of stories about how I got into that condition, you're right. I couldn't even blame the family pet because hamsters are pretty much innocent cage dwellers.
I finally broke free of the corner, gingerly tip toing across the 5 foot spans of sticky paint. My shoes had to be cleaned with some disgusting chemical which has probably now graduated to some hazmat list. I learned a good lesson that day. In fact there were probably a few lessons I was supposed to learn that day, but the one I know for sure is to start in the corner and paint outward, don't start outward and paint a nice arc toward the corner. I would be a total failure as an Old Testament citizen. Have you read Exodus, Leviticus, Nehemiah – well just about any book where instructions were written? Talk about specific!
I'm not sure why I'm telling you that story today except I was reminded of it when I was praying about the day ahead. Every morning I write a 'thank you' for my joy jar. Sometimes I write a thank you for things I know I need to be thankful for, but just like the time when I didn't want my shoes to touch that wet paint, I tip toe around it. There is a reason why God wrote these words in 1 Thessalonians 5:18 "give thanks in all circumstances; for this is God's will for you in Christ Jesus." That's tough isn't it?  Read the book of Psalms and find time after time the words "Give thanks to the Lord…for his love endures forever." Even if we can't thank God for our circumstances we just have to thank him for loving us through them.
God's word, according the 2 Timothy 3:16-17 is an instruction manual for life. "All Scripture is God-breathed and is useful for teaching, rebuking, correcting and training in righteousness, so that the servant of God may be thoroughly equipped for every good work." Today, I'm still painting myself into corners. One of my favorite books in the Bible is Isaiah. It seems like I can always find wisdom from that prophet. Isaiah 66:4 "For when I [God] called, no one answered, when I spoke, no one listened. They did evil in my sight and chose what displeases me." I never expect any evil act to come from me, but also don't want to be guilty of not listening when God speaks to me.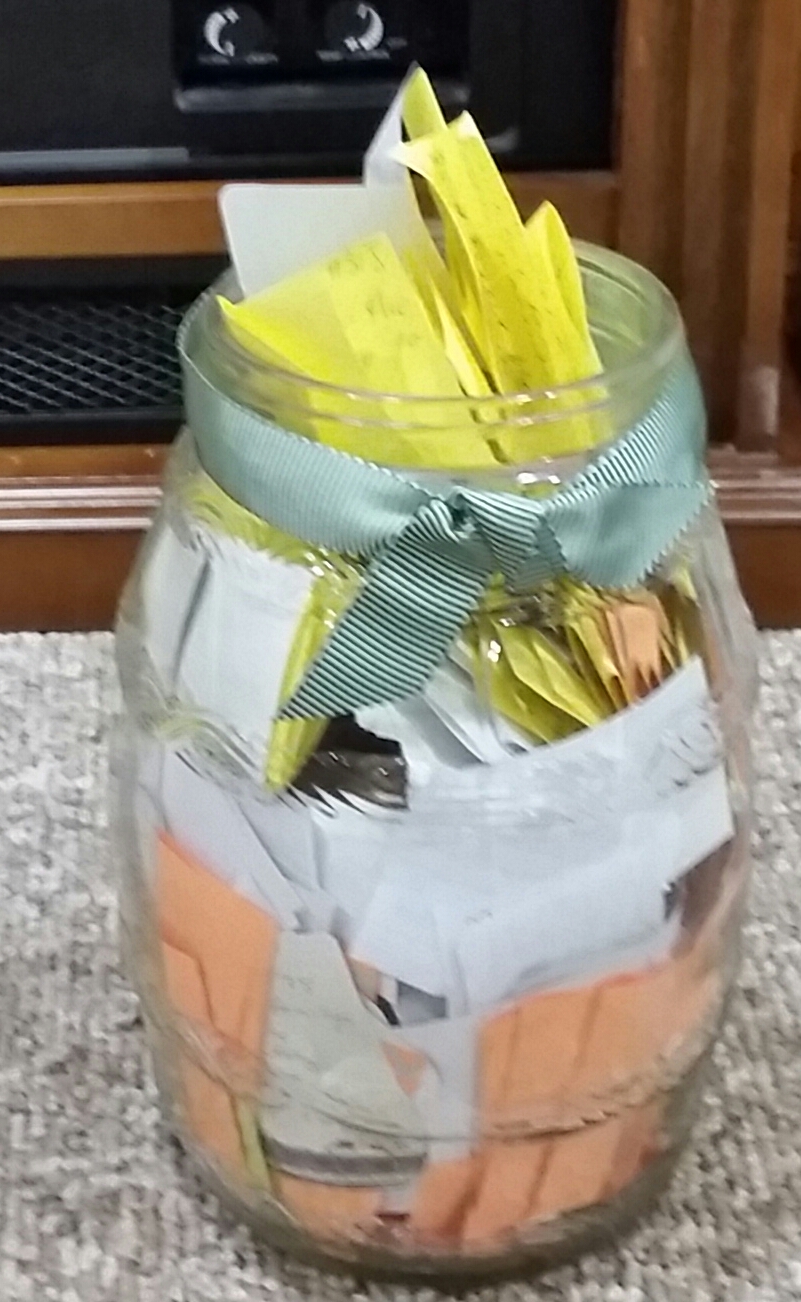 This morning as I wrote "Thankful for …" and put it in my joy jar, I thanked God for bringing me to the place of being thankful for circumstances, that He is in control, and that whatever he wants to teach me through all of it, that I will be a willing student and learn it well. Maybe you don't struggle with painting yourself into a corner like I do. I will be the first to admit I'm a little slow on the uptake sometimes. But God is a patient God and he had this written out in Colossians 1:9-11 "We ask God to fill you with the knowledge of his will through all the wisdom and understanding that the Spirit gives, so that you may live a life worthy of the Lord and please him in every way: bearing fruit in every good work, growing in the knowledge of God, being strengthened with all power according to his glorious might so that you may have great endurance and patience,"
I don't know about you, but I'm asking God to fill me with wisdom so I can get out of this corner. I'm thankful for assurance that God doesn't want me to stay there, paralyzed to move. Sticky situations never dissolve completely but they also don't have the power to cement us to the place we are right now. Ready team? Let's pick up our feet and just start moving forward.
I love this song Overcomer by Mandisa.