Recently, a friend posted an idea on Facebook that suggested starting a Joy Jar or call it a Blessings Jar or maybe repurpose a Thankful List to become a Thankful Jar.  I decided to translate my daily 'thanks' to daily 'blessings' and toss them one by one into a Blessings Jar. I don't want to let go of my Thankful List because if you continue reading, it has become my formula for stamina and survival. I love having optioons and in this case whether you choose a notebook, a battered single piece of paper, or an ornate jar – write something every day that you are thankful for. It can be as audacious as a new car or as insignificant as a hot peppermint mocha. Say it, write it, mean it – it will change your life.
It's Monday …. the start of the week – and boy it is COLD out there!  Here are some ways to warm up our day from the inside out.  Having an attitude of gratitude, practicing being thankful is a catalyst. It changes e-v-e-r-y-t-h-i-n-g. It takes an act of the will be just be thankful, especially in those times (days, weeks, longer) that it seems like nothing favors you. Stuff happens, more goes wrong than goes right, our armor wears thin, and we wonder why we are implored to count it all joy when we are as far from joy as we can get. Here's the formula to make it happen. Colossians 3:15 "Let the peace of Christ rule in your hearts, since as members of one body you were called to peace. And be thankful." We resist because we are too weary to dig down deep and find the tiniest flame of joy when it's easier to just let the freight train run over us.
Stop! Just stop it! We can turn that tiny flame into a symphony of light with just a little practice.  Did you know you have an enemy of your soul and he wants to suck the joy right out of you? Remember Job from the Old Testament and all that he went through? In Job 33: 30 it says that God turned him back from the pit he was in so that the light of life could shine.  It had to be an attitude of his heart that allowed Job to continue.  Then in verse 31 God says to him again "Pay attention, Job, and listen to me; be silent, and I will speak.
Today, let's have that heart attitude. Let's not let anyone steal our joy.
The formula – it's free and it's easy. Find a pen and grab a piece of paper. In fact you might want a durable notebook because this could catch on – Ready? Think of one thing you are thankful for. Just one. Write it down. There. #1 – done! Now here's the next step and the next and sometimes they are tough but do it anyway. Every time you think of something you're thankful for – write it down. Use the same piece of paper. The writing tool doesn't matter – but keep your list handy and as you think of something you're thankful for, write it down. If you're using a jar, tear it off the tablet and put it in there.  I'm still using my list, but also copying it to a small paper and adding it to my jar.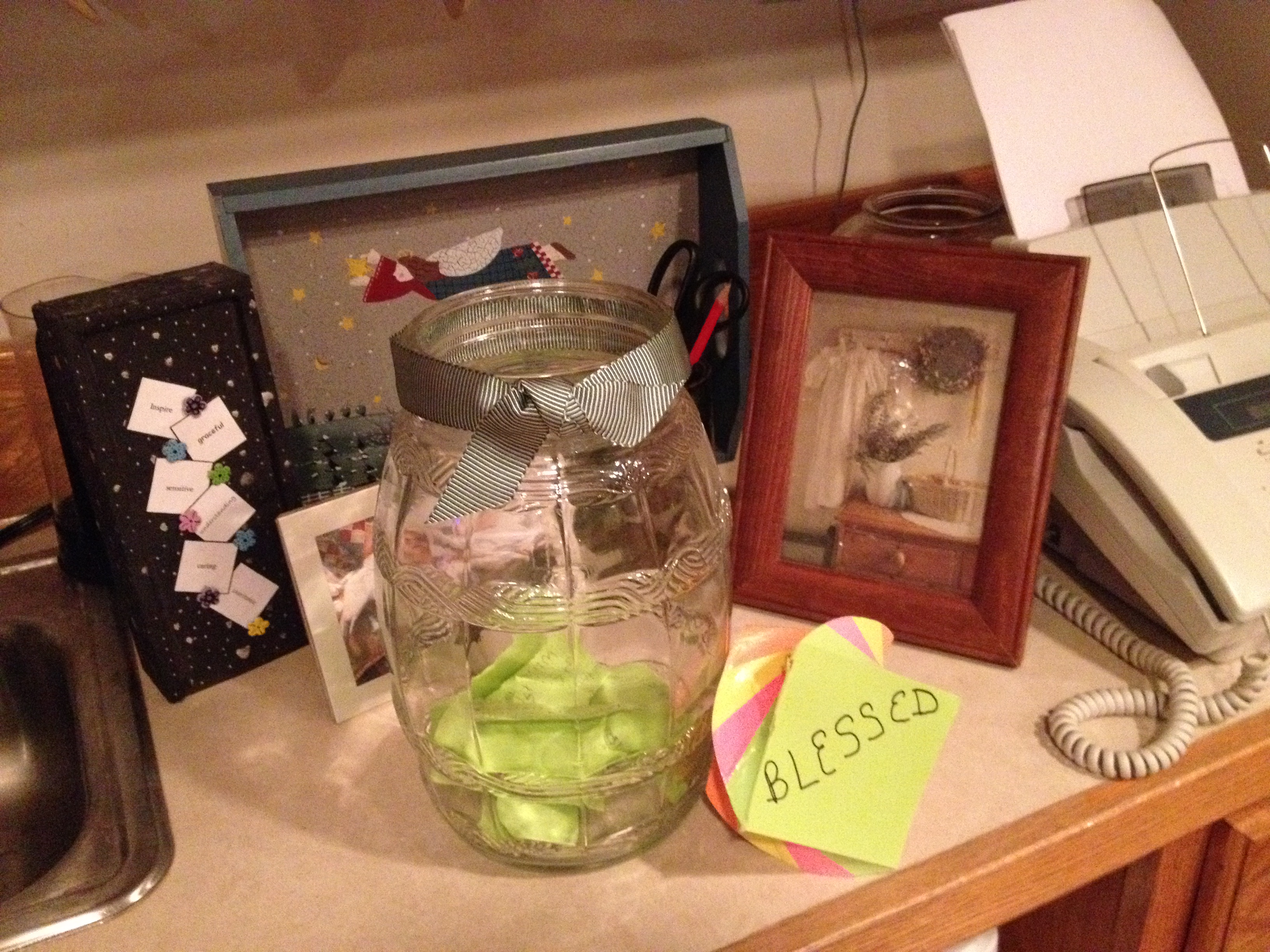 There will be times when the list seems like unnecessary clutter – but keep it anyway. At times when fear, sadness, and doubt start their invasion – Stop! Just Stop it! Go get THE LIST and start reading. This is what transforms a gloomy day to joy. The enemy of your soul cannot coexist with joy – can't do it. Choose joy. Today, I'm taking time to be thankful because that's how a bad day is converted to a good day.  I can't wait for a good day to happen, it's up to me to make it happen. So here goes. I'm stoking the furnace on joy. I am thankful God doesn't have mood swings. He is the same – all day, every day. He listens to me complain, He hears me when I call, and he shines His light so I can find my way.  Isaiah 43:11-3 ""Do not be afraid—I will save you. I have called you by name—you are mine. When you pass through deep waters, I will be with you; your troubles will not overwhelm you. When you pass through fire, you will not be burned; the hard trials that come will not hurt you. For I am the Lord your God."
Try it tomorrow … Good Morning, God – Good Morning World – Good Morning Sunshine Be held by  the omnipotent hands of God.   https://www.youtube.com/watch?v=iOufqWodFNo