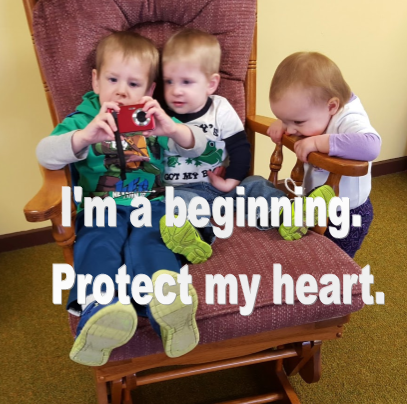 God is great; God is good, now we thank him for …. Do you remember saying that little prayer when you were a child? In our house, we didn't recite the pre-written prayer, but ours were similar in nature. Dear Lord Jesus, thank you for this food. Please bless grandma, please bless the missionaries ….." and the prayer would go on until mommy or daddy interjected 'Amen!" signaling the end of the prayer before every morsel of food was cold.
From that simple prayer is derived a pattern that has significance throughout life. This is not to say that every child exposed to that prayer early in life will adopt it and hang onto it into adulthood. But for those who do, the reward is unshakable faith in God and an attitude of gratitude. A couple years ago I learned of a debate going on with the FCC where they are being pressured to allow nudity and crude profanity on network television. The FCC stand on what constitutes indecency is still in question, but there seems to be a growing number of shows on TV that have taken their liberty beyond extreme. If the content isn't toying with morale issues it's mocking and disrespectful of any position that represents authority. I don't get that.  Neither kids nor adults benefit from more exposure to demoralizing language and, let's call it what it is, on the bleeding edge of pornography! The lack of respect stretches from the inner circle of our homes to the outer limits of our communities. It makes my heart hurt. 
God is great, God is good – why not expose children and adults to language and pictures that encourage, establish a firm foundation of faith, and give them a basis for thanksLiving? This is a heavy burden on my heart this morning because it's Wednesday, the day I help care for a dozen toddlers and pre-schoolers while their moms attend Bible study. These are children who will grow up in a world where responsible adults are choosing to strip away filters that protect them from things they should not see or hear. Is it so hard to grasp the fact that we can't unsee or unhear something? The damage is done! These little ones are just beginning to fill in the pattern of their life.  I'm thankful that these parents make it a priority to bring their children to church where they are learning, and adding godly virtue to their pattern. They are forming values that are wholesome, honorable, and right in the sight of God. Their minds are filled with the fruit of the spirit and the qualities of God, not the composted junk of the world. Garbage in, garbage out.  
I wonder when I read Matthew 18:10 what God thinks of adults who have no conscience for what they are exposing children to.  "See that you do not despise one of these little ones. For I tell you that their angels in heaven always see the face of my Father in heaven.
Luke 17:1-3 Jesus said to his disciples, "Stumbling blocks are sure to come, but woe to the one through whom they come! 2 It would be better for him to have a millstone tied around his neck and be thrown into the sea than for him to cause one of these little ones to sin. Watch yourselves! If your brother sins, rebuke him. If he repents, forgive him.
WARNING! It isn't just children who need to be protected from the evil that is in the world. We all have free choice. I encourage you to choose pure thoughts and practice moral purity and ethical behavior.  Every act has at its root the initial thought. 1 Peter 5:8 reminds us to " Be sober and alert. Your enemy the devil, like a roaring lion, is on the prowl looking for someone to devour." 
Do you desire the fabric of your life to be beautiful? It starts with the pattern and interwoven threads – thoughts and acts. So here's what we all need to do ….. Philippians 4:4-9 Finally, brothers and sisters, whatever is true, whatever is noble, whatever is right, whatever is pure, whatever is lovely, whatever is admirable—if anything is excellent or praiseworthy—think about such things. Whatever you have learned or received or heard from me, or seen in me—put it into practice. And the God of peace will be with you.