Yesterday I went to my bookshelf and pulled off all the books I read last year and stacked them on the end of my desk.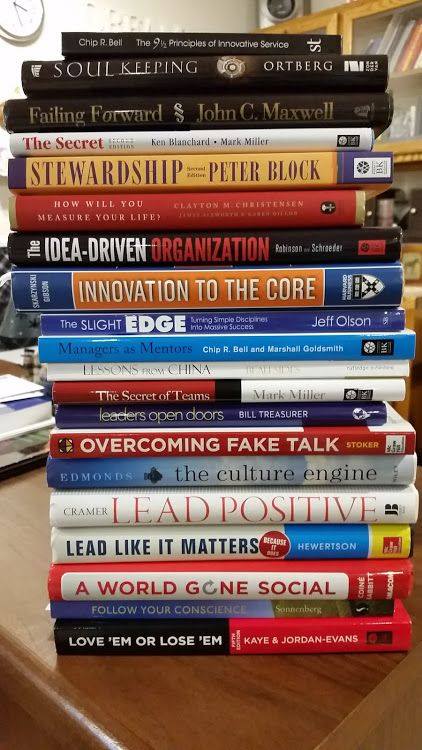 It wasn't so I could get all bigheaded and proud of my accomplishment. I was thinking back to how my life has changed this year. It isn't so much because of what I read in all those books, but that helps. It's more that I've interacted with many different individuals who model the character written about in those books. Even though the books piled on my desk aren't specifically 'Christian' or Bible based, the subtle message runs through every one of them. Your character is what you do when nobody is watching. I've set a goal this year. 2x2x2 Read 2 books, review 2 books, every 2 weeks. Why? Because the books I choose to read will build my character, if I adopt their truths. Someone who lived in the Old Testament had impeccable character. Do you remember Daniel?
There's a huge push at the beginning of the year to choose one word to live by. It's called #MyOneWord. I think it originated at a church in North Carolina, but it's pretty cool to hear how people have chosen just one word. Let's talk about Daniel's one word. Character. Daniel of the Bible isn't one of the living influencers of my life. Sheesh! Come on, I'm not that old.  But Daniel is the model of upright, pure integrity and character. It occurred to me that Daniel didn't derive his strong moral values and unwavering faith from reading self-help books – but if they had been around at the time, he could have written them himself.  You know why? Because he knew that despite all the malevolence around him and the injustices brought against him, he knew that to get through the contentious situations in life, live above the deception and maintain his standing with God, he had to be in constant communication with Him.
As I read Daniel 6 this morning, I noticed at some time I had written in the margin of my Bible, "Be a person of excellence." It was beside verse 4, …"he was trustworthy, and neither corrupt nor negligent."  Wow! How did he stay so perfect in such a defective world?  Further into the chapter the message is obvious.  Verse 10 "Daniel got down on his knees three times a day and talked to his God, thanking him." In all that thanks, I have to believe that Daniel also asked for help to be strong. Daniel was up against insurmountable circumstances. He couldn't hop the nearest commuter flight and get out of Babylon. He was captive and his only way to sustain his honorable character was through his relationship with almighty God.
Daniel could have caved, but he didn't.  He could have taken the bait and rationalized that God would surely forgive him if he would give in and bow to the king like everyone else. God had to understand the predicament he was in. Wouldn't it be OK to blend in with everyone else? No! No! a thousand times no!
We don't know what's going to happen next week. We aren't even sure what news will come to us in the next 5 minutes that could alter our course for the day, maybe for life. We do know that there is a thing called character. We don't get it by thinking about it. We don't get it by reading it in a book. We get character from practicing the principles of purity in thought, from our heart, and through action. We have to get the inside right; the rest will take care of itself.  Dare to be a Daniel? I'm working on the inside.  Want to join me?  Let's get out there!
Let's be courageous and do the right things for the right reasons.